I'm writing this post as a very tired Erty. Last night I had quite the sleepover party with my friends Eric, Sam, and Matt. I took some snapshots, which you can see below.
| | |
| --- | --- |
| Eric with a Pop-Tart. Om Nom Nom Nom. | Matt, laughing. |
| We played some music - Sam on Bass, me on Guitar, and Matt (pictured) on drums. | Whazzzzupp? |
| For the Pop-Tarts, it was a horrible night. | Um... Yeah. I'm not crazy. |
| I don't think he believes me. | As I mentioned, Sam plays bass. I thought this was a pretty cool shot. |
As for the artistic pictures, I took a few of those recently as well. One of my favorite pictures so far...
...is this one. There is an odd scale at work here. The tree is actually a branch, and what looks like rough grass is in fact a juniper bush. I like taking pictures of small things because people so often overlook them in their daily lives. I'll get a really good macro lens someday, and I'm sure you'll see pictures of things like ants and roly-polys.
For a while now, I've had problems with taking pictures of random people. I lamented this problem in my last post, but I'm glad to say that I have now taken a picture of a complete stranger. My dad and I were in the Admiral's Club at LAX (He's platinum with Am. Airlines), and I decided to go and see if I would actually take pictures of people. The first guy I asked turned me down - it was a really cool picture, too - lit from three sides and surrounded by airplanes. Anyway, this guy was sitting in a room watching TV. He looked nice, so I asked if I could take his picture. Long story short, I got a few shots, and he said that I should go to Paris. Apparently there's good pictures to be had in Paris. Lesson of the day? Don't be shy.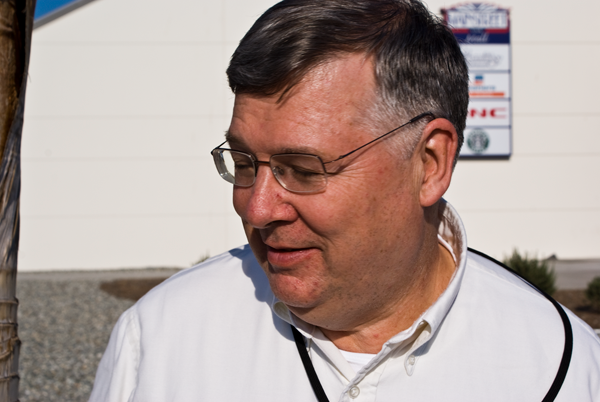 My dad and I went and got haircuts, so we decided to take some pictures to send back to my mom. We were on Los Angeles Air Force Base at the time, which is full of really bright, white rocks and buildings. The whole place is so bright that on most days it hurts if you don't squint. Good light for pictures, though.
---
So it's one more week of work for me and then back to school. I really should finish up
my comics
.
--Erty